Newsletter - November 2020
Webster Stanley
Middle School
Learn Together, Succeed Together
In This Issue
Message From Mr. Marshall
Note From The Nurse
Nov 3rd Referendum
Coats For Kids
WSMS Important Dates
WSMS Important Information
OASD Information
Quick Links
Contact

Webster Stanley Middle School
915 Hazel Street
Oshkosh, Wi. 54901
920-424-0442

philip.marshall@oshkosh.k12.wi.us
Message From Mr. Marshall
Dear Webster Stanley Families and Friends,
Parent/Teacher conferences will be coming up on November 10 and 19. We will be reaching out to you to begin scheduling this week. As we are in Model 4-Virtual, it is extremely important that parents and teachers communicate with each other periodically. We need to share how your student is progressing and we want to hear from you about how we can be more supportive or accommodating. Please look for communication about this and plan to join us.
Election Day is Tuesday, November 3. Be sure to exercise your right and VOTE!
Sincerely,
Mr. Marshall
Note From The Nurse
It's likely that flu viruses and the virus that causes COVID-19 will both spread this fall and winter. Healthcare systems could be overwhelmed treating both patients with flu and patients with COVID-19. This means getting a flu vaccine during 2020-2021 is more important than ever.While getting a flu vaccine will not protect against COVID-19 there are many important benefits, such as:
Flu vaccines have been shown to reduce the risk of flu illness, hospitalization, and death.
Getting a flu vaccine can also save healthcare resources for the care of patients with COVID-19.
Contrary to belief the flu vaccine does not make you sick, it does activate your antibodies which means your body is preparing to fight off the flu virus!
As alway, please wash your hands or use hand sanitizer that contains at least
60% alcohol in it, distance and wear your mask!
Marni DePeau RN BSN
Webster Stanley Elementary
Webster Stanley Middle
Emmeline Cook Elementary
Washington Elementary
WIT Academy
---
School Funding Requests on Nov. 3 Ballot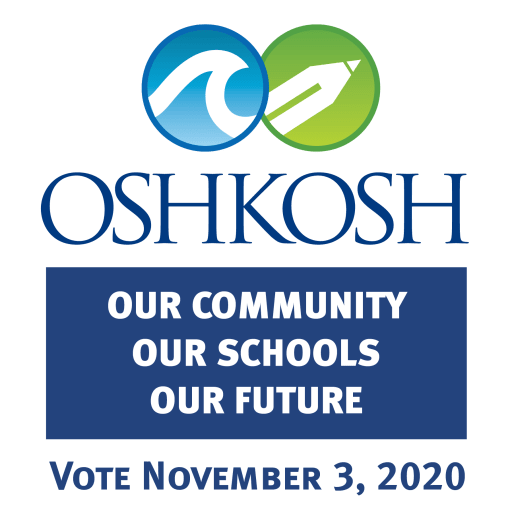 The Oshkosh Area School District has two school funding requests on the Nov. 3 ballot:
Q1: renew existing funds for school operations

Q2: invest capital funds to improve district school buildings
If voters approve Q1, funds would support academic programs, technology for learning and student support services - with no tax increase.
If voters approve Q2, funds would be invested in our school buildings to improve safety and accessibility, provide more flexible learning spaces, address building maintenance needs and create more cost-effective schools.

Learn more at www.oshkosh.k12.wi.us/referendum.
---
Coats For Kids
Please help WSMS in thanking Mrs. Frank for running the Coats For Kids Campaign. There were 30 coats donated thanks to all of her hard work. She is also donating the $100.00 gift card she won, back to WSMS! Thank you Mrs. Frank for all you do for our WSMS students and families!! She even made it onto the WVBO website!
---
Important WSMS Dates
November 10th-Virtual Parent Teacher Conferences
November 12th- In Person Learning resumes for B day students
November 13th- In Person Leaning resumes for A day students
November 19th- Virtual Parent Teacher Conferences
November 25th-27th- NO SCHOOL!
Early Release Days
November 11th
December 9th
January 6th

February 10th
March 10th
April 14th
May 12th
School day ends at 1:26 PM on Early Release Days!
Important WSMS Information